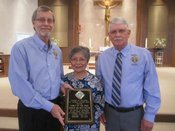 Family of the Year Doug and Betty Balcom
The Council 10567 Family of the Year for fraternal year 2015-2016 are Douglas and Betty Balcom. The couple received recognition at the annual Awards Day on Sunday, June 19 at the 10 a.m. Mass at St. Patrick.
Doug and Betty's story began more than 40 years ago. Doug was in the Air Force, stationed in the Philippines, when he met Betty, who was working at a local hospital as a physical therapist. They fell in love but Betty's family were all devout Catholics and they wouldn't allow the couple to get married until Doug became a Catholic.
"It wasn't love at first sight," Doug recalls. "But we met in 1971 and got married in 1972."
Doug also remembers being baptized into the Catholic church. "That must have been some sight, a 6-foot military guy being baptized by a 4-foot Filipino Priest."
For Doug, becoming a Catholic was like coming home. "My mother was Catholic but we never practiced the faith. My grandmother was a devout Catholic. I learned more during Faith Formation about the Catholic faith than during all my years growing up."
After Doug left the service, he and Betty returned to Doug's native upstate New York. They lived in California for a while before finding their true home here in Alabama and later at St. Patrick.
We were living in Graysvbille and attending St. Paul Cathdral," Doug said. "Then we heard about St. Patrick."
Married 44 years now, Doug and Betty have a son, Darryl, in Ventura, California and a daughter in Aurora Colorado. They have three grandchildren: Nicholas, age 17; Kaila, age 10; and Madison, age 8.
Doug and Betty are true examples of Catholic family life. They serve as Eucharistic Ministers and Lectors and Doug, a 4th Degree Knight of Columbus, is actively involved in all Knights activities. Betty is a longtime Faith Formation teacher and a member of the Ladies Auxiliary where she has served as secretary and will serve as chaplain for the 2016-17 year.
Service is definitely something that runs in their family. In 2015, Betty's niece Catherine Nisce was conferred the Cross of Honour by Pope Francis, the highest medal that can be awarded to a member of the laity by the Pope. Ms. Nisce was recognized for her service to the churches, Priests and Catholics in her diocese.
Doug and Betty have a strong faith and Doug credits Betty for their constantly learning more about the Catholic faith. They pray the Rosary together every morning. Betty loves books and other Catholic resources and she reads a passage aloud to Doug every night before they call it a day.
Doug and Betty Balcom are special and Council 10567 is are proud to honor them as this year's Knights of Columbus Family of the Year.
Click here for more information and photos from Awards Day.