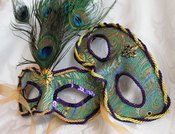 Let the Good Times Roll!
ST. PATRICK's
MARDI GRAS PARTY
FEB. 14
St. Patrick Conference of the Society of St. Vincent de Paul invites everyone to come and celebrate Mardi Gras with us on Saturday, February 14, 2015 from 6:00 pm until midnight.
Dance or Karaoke to Big Band, Doowop, Oldies, Country/Western, Pop, Disco, Jazz, or Reggae music.
Enjoy cheese balls & crackers, chips & dip, red beans and rice, cornbread, coleslaw, wings, corn on the cob, moon pies, king cake & other cakes, adult beverages (cash bar), set-ups, & much more.
Seating will be limited to 144, so hurry& get your Ticket at $10/each (adults 21 & older only please). Non-perishable canned food donations will also be appreciated. Some prizes & Win half the pot of our 50/50 raffle ($1/chance).
For more information, for early tickets, and to submit song selections (DJ/Karaoke), please contact Pat Roden at patroden@yahoo.com or Ann Tulloss at jgt@bellsouth.net St. Patrick Catholic Church is located in Adamsville (off Highway 78 West near Minor High School) at 301 Shamrock Trail, Adamsville, AL 35005. Phone is (205) 798-5326.