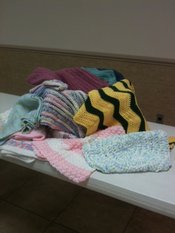 Sample of handmade items (click for larger photo)
The St. Patrick Prayer Shawl Ministry produces beautiful and useful items such as lap throws, shawls, hats, and baby blankets, all for the purpose of providing comfort and healing to those in need.
The Ministry was formed more than three years ago and is led by Mary Evans who is skilled at needlework and crochet. Since its inception in September of 2011, the members of this special organization have given 697 items!
These ladies meet periodically to produce these items that have benefited patients at the St. Jude's, the Veterans Administration Hospital, Brookwood Hospital and Children's Hospital. Some of the items that are made by the ladies are given to friends and family.
Pictured here are baby blankets called "Scent Blankets" that were made for the Footprints Ministry. These are given to the parents of premature babies in the NICU at various hospitals in Birmingham. The mother takes the blanket home and sleeps with it. Afterwards the blanket is given to the baby so he or she can be comforted with their mother's scent.
If you want to join in this group or need more information, contact Mary Evans via the church office.