St. Patrick Knights of Columbus Council 10567 honored Fred Deason as its Knight of the Year and Larry and Ellen Cannon as its Family of the year during a ceremony after Mass on Sunday, July 26.
The Knights also recognized Mike Smith and William Mark McPherson II as this year's recipients of the Louis N. Memorial Scholarship.
The presentations were made by Grand Knight Clay Reece and Deputy Grand Knight Brandon Yow.
The Louis N. Muro Memorial Scholarship is named in honor of Louis N. Muro, the Council's Charter Grand Knight. This year Mark McPherson and Mike Smith became the 33rd and 34th recipients of this scholarship since it was instituted in 1995. Mike Smith is the son of Ric and Anne Marie Smith and a recent graduate of Sumiton Christian High School. A lifelong member of St. Patrick, Mike has been an active member of the Columbian Squires for six years and an active member of SPIRIT Youth group. Mike plans to attend Bevill State Community College in the Fall. William Mark McPherson II is the son of Mark and Susie McPherson. He graduated from Curry High School with a 3.76 GPA and plans to attend Auburn University this fall. Like Mike, Mark has been an active member in the SPIRIT Youth group for many years. He has also served as Chief Squire of the Columbian Squires.
Family of the Year honorees Larry and Ellen Cannon will soon be married 47 years. Larry and Ellen have three children and four grandchildren. Like many, Larry and Ellen lived separate religious lives for many years. Ellen grew up in St. Aloysius parish and went to grade school there and attended John Carroll High School. Larry went to Hueytown High School and was a member of Fairfield Highlands Baptist Church, where he served as Sunday School teacher and bus driver. Ellen and the children would attend St. Aloysius every Sunday while Larry attended the Baptist church. That changed in the late 90s when Larry became friends with Father Underwood at St Teresa's in Midfield. He began taking instructions from Father Underwood and became a Catholic.
Larry became a Knight of Columbus in 2002 and became a 4th Degree Knight in 2010. He has served Council 10567 as Chancellor, Family Director and will be our Grand Knight for the upcoming fraternal year. Ellen is a lector at St. Patrick and both Larry and Ellen are great servants of the church.
For the example they have set as a Catholic Family for almost 50 years, and for their service to St. Patrick and to all of us, the Knights are proud to honor the Larry and Ellen Cannon family as this year's Knights of Columbus Family of the Year.
Fred Deason joined the Knights of Columbus on August 2, 2001 and just six months later became a Fourth Degree Knight. Since day one, Fred has been one of the premier members and leaders of both our Council and 4th Degree Assembly. He is a Past Faithful Navigator of the 4th Degree and has served the Council in many capacities. Fred took on the leadership role for our St. Joseph Hall remodeling project this past year, from the planning stages to conclusion, and was a big reason for its success.
Fred is a person with great passion for our Knights of Columbus Council and for St. Patrick. He is a great role model for all of us. Like most of us, Fred has had great support from his wonderful wife Irene. Fred and Irene were married in November 1976 and will celebrate their 35th year of marriage this year. Both Fred and Irene love St. Patrick and our parish is richer because of their dedication and faith.
It is with great joy that the Knights honor Fred Deason with the Knight of the Year award.
Click on the ...more pictures link above to view photos from the Awards Day.
The Knights of Columbus is the world's largest Catholic lay organization. We are celebrated for standing in solidarity with our priests and bishops and for our unwavering support for life. We provide members and their families with volunteer opportunities in service to the Catholic Church, their communities, families, and young people. With more than 1.7 million members in more than 13,000 Councils around the world, the Knights of Columbus annually donates more than $143 million and 68 million hours of service to charitable causes.
For more information on becoming a Knight, send an e-mail to knights@saintpatrickcc.com.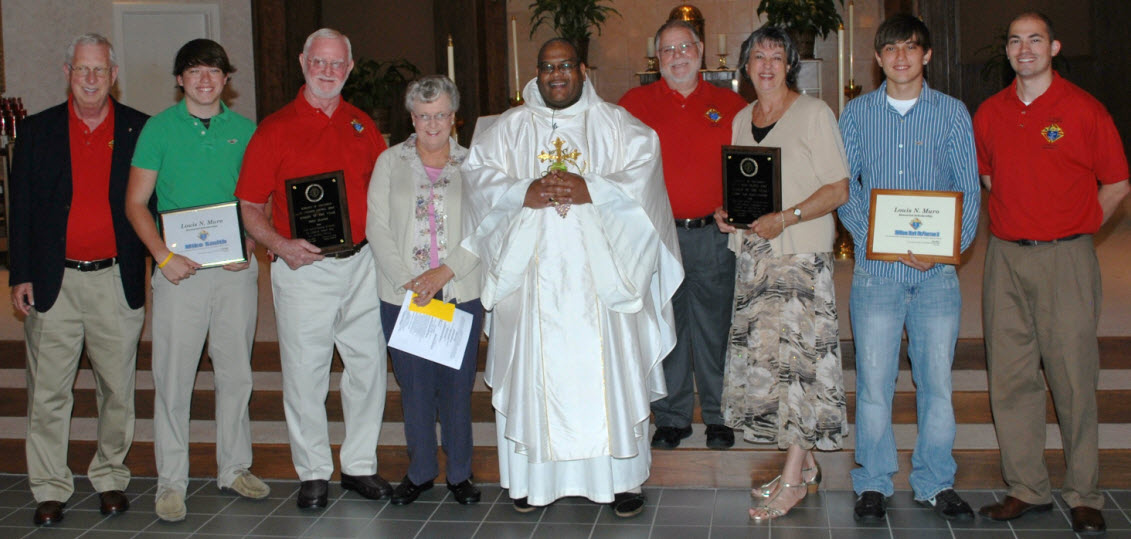 Shown (l-r) are Grand Knight Clay Reece; scholarship recipient Mike Smith; Knight of the Year Fred Deason and his wife Irene; St. Patrick Pastor and Council Chaplain Father Vernon Huguley; Family of the Year Larry and Ellen Cannon; scholarship recipient William Mark McPherson II; and Deputy Grand Knight Brandon Yow.