Congratulations to Anthony Brooklere, David Berry McCain and Joseph Schober who became First Degree Knights of Columbus on Sunday, August 15.
The First Degree team included Clay Reece, Grand Knight; Larry Cannon, Deputy Grand Knight; Don Cannon, Chancellor; Charles Blanchard, Warden; Dale Blanchard, Financial Secretary; and Joseph Conte, Inside Guard. District Deputy David Hester was in attendance as was St. Patrick Pastor and Chaplain Father Vernon Huguley.
Anthony Brooklere has owned Adamsville's Brooklere Pharmacy for 42 years. He and his wife Sara Jean have been married for 52 years and have a son, Johnny, and a daughter, Anna Marie. They have two grandchildren. Mr. Brooklere graduated from John Carroll and Auburn University and he enjoys yard work and travel.
David Berry McCain and his wife Jackie live in Mount Olive and have been married for 29 years. They have one daughter, Kristina, and one son, Conner. Mr. McCain worked at McCain Steel for 29 years and Industrial Contracting for three years. He is now self-employed. He enjoys hunting and fishing.
Joseph Schober and his wife Leigh Ann live in Quinton. they have one son, Jeramy, and two grandchildren: Preston, 10; and Gwen, 8. Mr. Schober worked for Anderson News for 30 years. He enjoys camping, hiking and fishing. Mr. Schober works with computers, including computer building and wireless and network setup.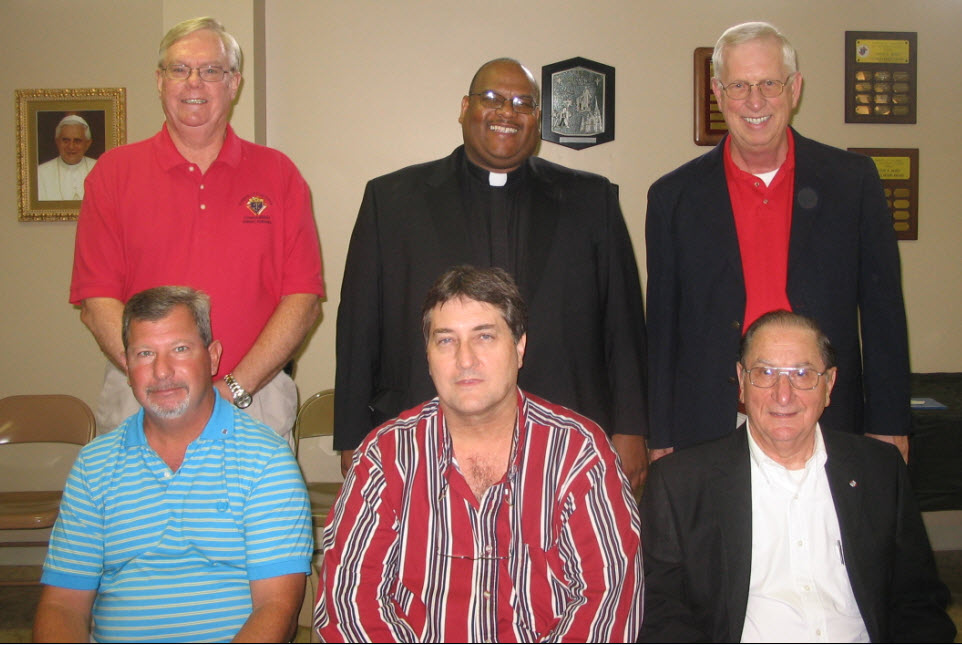 Shown seated (l-r) are Berry McCain, Joseph Schober and Anthony Brooklere. Shown standing (l-r) are District Deputy David Hester, Father Vernon Huguley and Grand Knight Clay Reece.