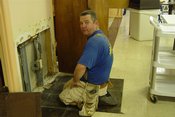 I need your help!
Lent: A time for Prayer, Fasting, Alms-Giving; a time for giving up something as a penance; a time to do something as a penance. Even though there are 47 days from Ash Wednesday to Easter Sunday, the Sundays are not counted into Lent. Thus 40 days of Lent.
What is a Lenten Day of Service?
One day set aside, to come together to serve the Lord through Fellowship and through Service.
Through Fellowship, you might meet someone new in the parish, that person or persons you've seen at Mass and just have not met them as yet; learn their name, who they are, where they work, etc. You just might have something in common.
Through Service, volunteer your Talent, your Time and your Commitment to St. Patrick's. Keep our Parish growing.
Once again, Phillip Troha will direct this Parish event for all of St. Patrick's Parishioners. Click the downloadable document in this article for more information on this year's event.
Remember last year's event?