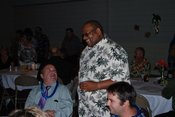 Father Vernon at the Dinner Dance
It was a great night of fun, food and fellowship for the hundreds of people who attended the 8th Annual Jerome C. Bradley Memorial Dinner Dance.
The night began with delicious food from Counts Wedding Catering Services. Prior to the beginning of the drawing for cash door prizes, Knights of Columbus Council 10567 Grand Knight Mike Muro presented a check on behalf of the Knights to John Martignoni, a member of the board of directors of Queen of Heaven Catholic Radio.
"On behalf of the Knights I want to thank everyone who purchased a ticket and everyone who supports our worthy causes throughout the year," Grand Knight Mike Muro said. "All the tickets were sold and we could not put on this great event without our patrons and the many people who help us."
More than $11,000 was given away during the night, highlighted by the $5,000 grand prize won by St. Patrick parishioner Paul Vizzinia.
After the drawing everyone cut loose for some enjoyable dancing and good music.
The 2010 Dinner Dance will be held on Saturday, August 21, 2010.
Click here to view photos from the 2009 Dinner Dance.