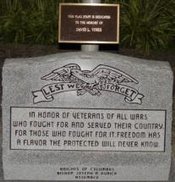 Bishop Joseph A. Durick Assembly 2399 Erected a Moument to the Veterans of All Wars That Stands on the Grounds Today at St. Patrick Catholic Church
There are no amount of words or statues or monuments that can sufficiently honor men and women who gave their lives for others. These are men and women whose lives were taken from them, who sacrificed themselves for a greater cause.
While there is no sufficient way to honor such heroes, we at Bishop Joseph A. Durick Assembly 2399 believe that these great Americans should be acknowledged for the ages. Long after we are all gone, future generations need to be reminded that all was not always pleasant in these United States and that people served and died for their fellow countrymen and for freedom.
It was in this spirit of patriotism that we began a project to honor the great veterans of all wars. We are very proud of the memorial we have erected, not because of the cement and shrubbery, but because it truly reflects our intent and the value we place on patriotism.
In three historical novels on the american Revolution, the author Howard Fast fully describes the horrors of war and beautifully captures the greatness of the American soldier and war hero. In Fast's The Proud and the Free, an old soldier remembers his comrades that served with him in the Pennsylvania Line during the American Revolution. He says the following:
"May they sleep well, do I say myself. They reached up for the stars and they made a crude key to unlock the gates of heaven. This, other men will do, and the key will become a better one: so I will not weep for them or have you weep, but only give them their due."
Like the old soldier in Fast's novel, we do not weep for these soldiers nor do we ask others to weep. We only pause to remember, and give them their due. We hope that this memorial will allow future generations to do the same.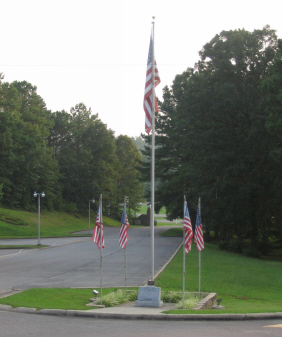 Monument to the Veterans of All Wars Stands
on the Grounds of St. Patrick Catholic Church.
Flags represent the four branches of the
military: Army, Navy, Air Force and Marines