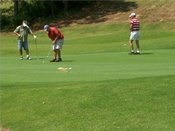 Golf Anyone?
Columbian Squires Circle 4481 will hold its second annual golf tournament for charity on Saturday, June 14 at Mountain View Golf Course in Graysville.
All proceeds will go to the Autism Society of Alabama.
Entry fee is $75 for individuals or $300 for a four-person team. The entry fee includes greens fee, 1/2 riding cart, buffet lunch and more.
To enter fill out the attached entry form and return to Columbian Squires Circle 4481, 1021 5th Place, Pleasant Grove, AL 35127. You can submit a completed form to Doug blanchard at dgblanch2003@yahoo.com.
For more information on the tournament, you can contact Doug at 205-744-5712 or through the previous listed e-mail.