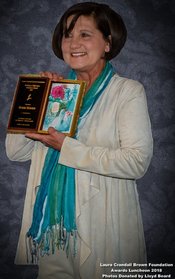 Doris Moody
St. Patrick parishioner Mrs. Doris Moody received the Laura Crandall Brown Foundation's prestigious MAKing a Difference Volunteer Award at the annual awards luncheon held on Friday, February 9, 2018 at The Club.
The annual awards luncheon honors and thanks volunteers for giving their time to the Foundation's fundraising and awareness events, and to inform them of the progress of the Foundation's mission.
The MAKing a Difference Award, which was established in honor of the late Mary Anne Hunter King, was presented to Doris by Jennifer Smiley, daughter of the late Mrs. King. Also there to present the award was Chuck King, husband of the late Mrs. King.
Criteria that must be met for a volunteer to receive this award includes:
• Active involvement with the Laura Crandall Brown Foundation
• Service to the Foundation throughout the year in a way that displays reliability and passion
• Dedication and commitment to the service of others, while displaying a positive and sincere spirit.
Doris said, "The Foundation and its mission has been a passion of mine since its founding in 2010. Laura's legacy left an indelible mark on my heart and, because of her dying wish, I felt called in a special way to work hard furthering the mission of the Foundation.
"The work of any non-profit is so dependent on its base of volunteers. I am humbled to have been awarded this honor in memory of Mary Anne Hunter King, who courageously fought her battle but continued to cheerfully serve her community with courage and a smile. I look forward to continuing to serve the Foundation for many years to come."
A founding member of the Board of Directors, Doris's volunteer activities with the Foundation over the years include:
• Establishing and maintaining the web and social media presence
• Photographic documentation of all Foundation activities
• Establishing Teal Taco Tuesdays where funds from a local restaurant were donated
• Clean Out for Cancer yard sales benefiting the foundation
• Taste of Teal Gala committee: promotion, soliciting donations, photographing auction items, helping with registration
• Head Over Teal committee: soliciting donations, media outreach, promoting event on website and social media, assisting in packet pick-up and day-of-race registration and documenting event through photographs
• A State of Teal awareness campaign: promoting teal lighting of businesses and proclamations issued by cities and county commissions across the state, attending city council and commission meetings across the state, photographing teal lightings locally in vicinity of Birmingham, updating website and promoting on social media, participation in Advocacy Day at the Statehouse in Montgomery and meeting with state representatives and senators to promote the cause of awareness
• Facilitating awareness presentations with Cecilia Crandall and others to bring attention to the symptoms of all GYN cancers.
The MAKing a Difference Award was established in 2017 and Doris is the second recipient. Dianne Baer, an ovarian cancer survivor who is very active in raising ovarian cancer awareness, was the 2017 recipient.
The Laura Crandall Brown Foundation was established in 2010 shortly after Laura Crandall Brown passed away from ovarian cancer at the age of 25. It honors Laura's life, memory and vision of helping others. Laura constantly expressed her desire to be able to help others who might face her same battle, and her loving and courageous spirit inspired her friends and family to create the Laura Crandall Brown Foundation. The foundation's mission is offering hope through early detection research, empowering communities through gynecologic cancer awareness, and enriching lives through support.
Go to thinkoflaura.org for more information.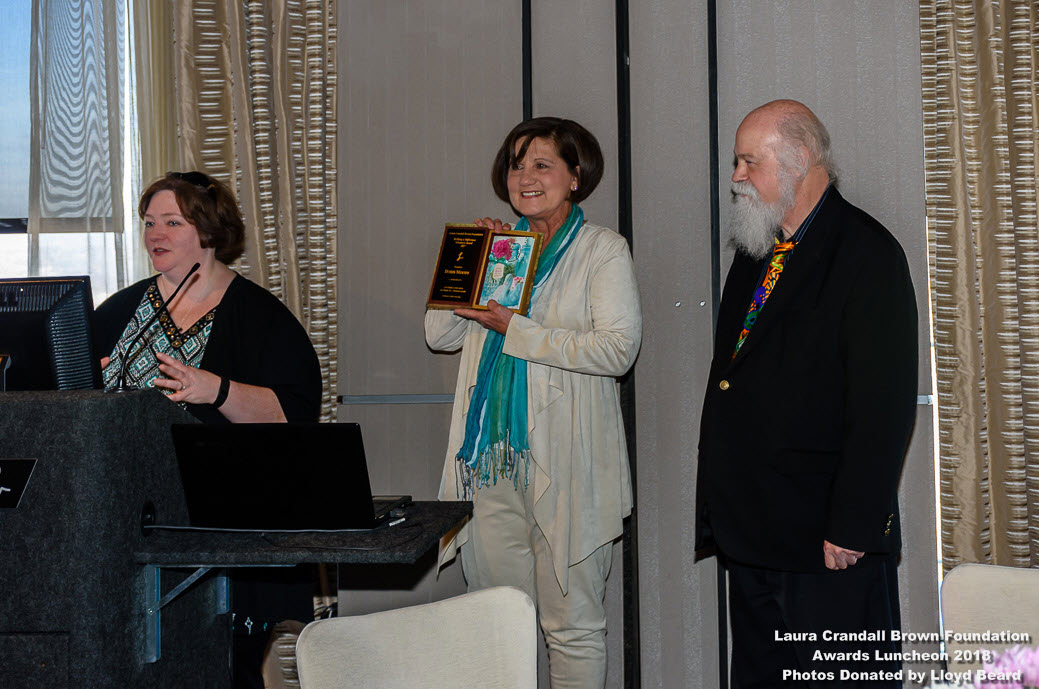 Jennifer Smiley, Doris Moody and Chuck King