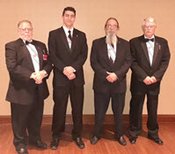 (L-R) Larry Cannon, Dakota Morrow, Terry Jackson, William Boone
Congratulations to Sir Knights Dakota Morrow and Terry Jackson, who went through the 4th Degree exemplification on Saturday, February 17, 2018 at Our Lady of the Valley.
The Sir Knights were accompanied on their journey by District Deputy Larry Cannon and Assembly 2399 Faithful Navigator William Boone.
Sir Knight Terry Jackson became a Knight on June 29, 2013 while Sir Knight Dakota Morrow became a Knight on October 16, 2016.
The Knights of Columbus is the world's largest Catholic lay organization. We are celebrated for standing in solidarity with our priests and bishops and for our unwavering support for life. We provide members and their families with volunteer opportunities in service to the Catholic Church, their communities, families, and young people. With more than 1.9 million members in more than 15,000 Councils around the world, the Knights of Columbus annually donates more than $175 million and 70 million hours of service to charitable causes.
For more information on becoming a Knight, send an e-mail to knights@saintpatrickcc.com.