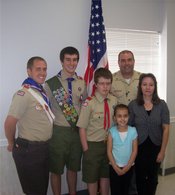 Jeremy Blanchard and Family
Jeremy Blanchard, a member of St. Patrick parish and Knights of Columbus Council 10567, has earned the highest rank in the Boy Scouts of America - Eagle Scout.
Jeremy, an 18-year-old Minor High School student, received the promotion after earning 26 merit badges and completing a service project. For his service project, Jeremy poured a cement slab and handicap accessible sidewalk around the statue of Mary at St Patrick. The son of Dale and Jane Blanchard of Adamsville,
Jeremy, a lifelong member of St. Patrick, served as Chief Squire for Columbian Squires Circle 4481 before becoming a member of St. Patrick Knights of Columbus Council 10567 earlier this year. Jeremy is a member of Troop 303 which is sponsored by Republic Baptist Church.
Shown in the above photo are members of the Blanchard family (l-r) Doug Blanchard, Jeremy Blanchard, Jeffrey Blanchard, Anna Blanchard, and parents Dale and Jane Blanchard.