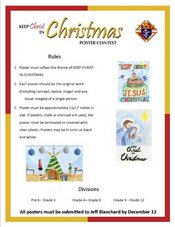 Contest Flyer and Rules
As part of the "Keep Christ in Christmas" Program, Knights of Columbus Council 10567 will be accepting submissions for the Knights of Columbus "Keep Christ in Christmas" Poster Contest.
There are three divisions: Pre K- Grade 3; Grades 4-8; and Grades 9-12.
Winners will be given a prize and will have the option of submitting their poster to the State level of the contest.
Here are the rules:
1. Poster must reflect the theme of KEEP CHRIST IN CHRISTMAS.
2. Each poster should be the original work (including concept, layout, slogan and any visual images) of a single person.
3. Poster must be approximately 11x17 inches in size. If pastels, chalk or charcoal are used, the poster must be laminated or covered with clear plastic. Posters may be in color or black and white.
For more information, contact Council 10567 Church Director Jeff Blanchard at 205-552-4013 or blanchgard16@aol.com. A publicity flyer is also attached.
Posters are due to Jeff Blanchard by December 13.