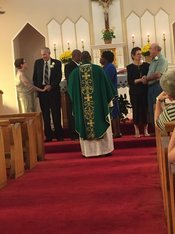 The Wedding Blessing
Knights of Columbus Council 10567 held its annual Renewal of Wedding Vows program on Sunday, October 15, 2017 at historic St. Stanislaus Catholic Church in Wylam.
The renewal of wedding vows was part of the 8 a.m. Mass at St. Stanislaus and three couples participated: Charlie and Baye Mareno (58 years); Eddie and Rosa Johnson (48 years); and Bill and Kathy Sanders (25 years). Father Vernon Huguley, Pastor and Council Chaplain, officiated the special Mass.
Bishop Joseph A. Durick Fourth Degree Assembly 2399 provided an honor guard and the St. Stanislaus faith community proved a wonderful breakfast after the Mass.
Council 10567 has sponsored the Renewal of Wedding Vows annually since 2005.
The Knights of Columbus is the world's largest Catholic lay organization. We are celebrated for standing in solidarity with our priests and bishops and for our unwavering support for life. We provide members and their families with volunteer opportunities in service to the Catholic Church, their communities, families, and young people. With more than 1.9 million members in more than 15,000 Councils around the world, the Knights of Columbus annually donates more than $175 million and 70 million hours of service to charitable causes.
For more information on becoming a Knight, send an e-mail to knights@saintpatrickcc.com.