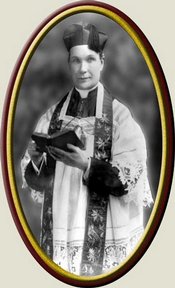 Father James E. Coyle
The annual Memorial Mass and reception for the late Father James E. Coyle will be held on Friday, August 11, 2017 at 12:10 p.m. at the Cathedral of St. Paul in Birmingham.
A reception will follow the Mass with refreshments. There will also be a special address by Jim Pinto, Director of the Father Coyle Memorial Project.
On August 11, 1921, Father Coyle was assassinated as he sat on the front porch of the former parish rectory. Earlier that afternoon, he had presided at the marriage of Ruth Stephenson to Pedro Gussman. Miss Stephenson, the daughter of a minister, was baptized a Catholic several weeks before the marriage. Her father, a part-time minister and a member of the Ku Klux Klan, shot Father Coyle shortly after he learned about the marriage. This tragedy occurred during a regrettable period of anti-Catholic economic and psychological persecution in Birmingham.
For more information, go to www.fathercoyle.org.