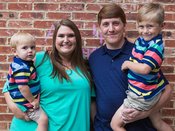 James Nelson and Family
Editor's Note: James Nelson became the 22nd Brother Knight to serve as Grand Knight for Council 10567 when he officially took office on July 1, 2017. James became a Knight on April 15, 2012 and he and his wife Desi have two children: Win and Oliver. Please read below as James shares some thoughts as he begins his term as Grand Knight.

Who recruited you into the Knights of Columbus?

Larry Cannon


What motivated you to move into a leadership role and eventually Grand Knight with your Council?

Once I was approached to be Warden in 2015 and took the position, I grew from there. I also took over the Tootsie Roll drive that same year. I always knew I wanted to be a big part of the Council so I was happy to get started. In 2016 I became Deputy Grand Knight to Mike Wehby Jr. I knew I wanted to continue making a difference with the Knights of Columbus and expressed that to my fellow Knights. Now, as I am beginning my position as Grand Knight, I am excited to see what we can accomplish as a Council!


What do you like most about being a Knight?
The brotherhood and the friendships that have been created. I love the bond created in our Council and knowing that our Council is willing to help our parish and community at all times.


As your Grand Knight tenure begins, what message do you have for your Brother Knights of Council 10567?
Thank You. Thank you for trusting me with our brotherhood. I look forward to promoting Charity, Unity, Fraternity and Patriotism this coming year. I will be praying for my brothers and my council and I ask that you pray for me in my endeavors as Grand Knight as well.