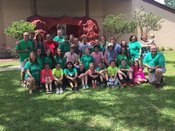 Click for larger image
Saint Patrick's Involved and Religiously Inspired Teens, also known as SPIRIT, ventured to Panama City Beach from June 2nd to June 5th for their annual retreat. For those who have never been to a SPIRIT Retreat, they are nothing short of amazing. Here is a poem written by one of our own SPIRIT members to give you a glimpse of what the retreat was all about:
We started off the retreat with ice breakers and games,
Where we got to know everyone's age, grade, and name.
Then we started off the affirmations,
Where there were notes of encouragement and inspiration.
We closed Friday night with prayer time on the beach,
Where a word or two was shared by each.
Off to bed we went, where a few were snoring
Until we arose early the next morning.
We started the morning with song and praise
Then had some free-time for the day.
When free time was over, we had youth-led sessions,
Where everyone hopefully learned a few lessons.
Later we had a testimony from one of our own,
Who let us know that we are never alone.
We had one more talk about not drifting away,
Then the game show, "Match Game" was played.
Sunday we had Mass and more fun in the sun
Then we came back together for more sessions to be done.
That night we had our famous slideshow,
Where we see how much everyone has grown.
Then we prayed over the seniors and everyone cried,
For even though they'll be around, it felt like goodbye.
Monday morning we gathered for closing prayer,
Where everyone had a memory to share.
Yes, together we praised our Heavenly Father
For each and every one of us had Come to the Water.
(Thanks to Anna Blanchard for contributing this article and poem.)