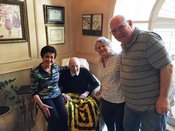 Pictured LtoR: Cherry, Bart, Mary and Pat Evans (click for larger image)
St. Patrick Prayer Shawl Ministry was started in approximately 2011. This small band of ladies gather every other Monday evening to work on our current projects and share our ideas and patterns. The organization began with an idea put into action by parishioner Mary Evans.
The ladies are always on the look-out for opportunities to spread these special gifts to not only our parishioners, but those in our community. Mary recently saw news reports on Pat Sullivan, former quarterback and Heisman Trophy Winner from John Carroll Catholic High School and Auburn University. Pat has been fighting throat cancer for some years now but is still active and occasionally is covered by the press. The organization decided to send him a throw and received a beautiful thank-you note.
Another opportunity to reach out came when Mary saw a recent report on Bart Starr's stroke and battle to rehabilitate from this affliction. Bart, former University of Alabama and Green Bay Packers quarterback, lives in the Birmingham area with his beautiful wife, Cherry, who is his biggest cheerleader. Mary's son Adam had the ability to contact them. When Adam called to get permission to send something to Bart, Cherry commented, "save the postage and just bring it!"
Rather than select an item at random from the many beautiful pieces made by the Prayer Shawl Ministry, Mary decided that nothing short of a real "cheese head" treasure would do. After juggling schedules and feverishly working to finish this special gift, they finally hooked up with this legend on Thursday, March 9, 2017 to deliver the gift. As the visitors walked into Bart's sitting room, they noticed a cover across his legs. Upon hearing the words of the card read by his wife, she immediately replaced his cover with his new Packers throw. And right then and there, that familiar and special smile appeared on his face.
The present members of the Prayer Shawl Ministry include: Jimmie Chicarello, Pam Dodd, Margaret Kernan, Pat Roden, Barbara Thompson, Patty Wehby, Hilda Willis, and Mary Evans. Pam and Barbara are friends of Hilda's. They joined our group a couple of years ago and we are most grateful for their participation.
This ministry welcomes anyone who wishes to be a part of this special group. Learn more about us from this section of the website. If you want to join in this group or need more information, contact Mary Evans via e-mail.