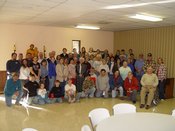 MOST of the Lenten Day Crew
Parishioners young and old came together on Saturday, March 8, for another day of elbow grease and smiles. The 2008 Lenten Day of Service commenced at 7:30 a.m. with prayer and reflection. Afterward, teams and team captains got busy cleaning and repairing areas around the church campus.
The surprise snow and cold chilling winds prevented the group from planned work on the grounds but there was plenty to do inside. The church pews were cleaned and polished, lights replaced, and construction for a new stage area for the choir and music ministers was constructed. The Raymond J. Murrin Family Life Center saw plenty of workers clean in the SPIRIT room, the Knights of Columbus room and the educational center downstairs. The main kitchen got a good overhaul cleaning including defrosting of the freezer.
The Knights of Columbus grilled burgers and hot dogs for lunch and everyone took a break to relax and refresh. After lunch, many had to leave so this picture doesn't depict all who attended. But it was definitely a successful effort and the church is ready to celebrate Easter in squeaky-clean style!
Click here to get a full video rendering of the activites.
NOTE: Allow ample time for download of this large file.