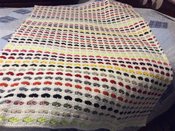 Afghan size 44 x 58
The St. Patrick Prayer Shawl Ministry is raffling off a beautiful handmade afghan to raise money for the organization to carry on their mission. Chances are 3 for $1 and will be on sale after the week-end Masses or from any member of this group. Tickets are on sale now and the winner will be drawn on Sunday, October 9th.
During the week-end of October 8/9th, the ministry will conduct a sale of many hand made items. You can help us add to our treasure in continuing to make more items for our parishioners, families and friends who have had a loss, have been hospitalized, or ill, or are in a nursing home. We hope you will come by St. Joseph Hall and check us out.
About the Prayer Shawl Ministry
The St. Patrick Prayer Shawl Ministry was started in approximately 2010. We are a small band of ladies who get together every other Monday evening to work on our current projects and share our ideas and patterns. We discuss the needs of the parishioners and our community.

Though our ministry, we have supplied hats to the homeless and oncology patients, shawls, lap afghans and scarves to our own parishioners, people who are in nursing homes or homebound, people who are facing surgery or people who have lost loved ones. We have sent items to the VA Hospital and we have made preemie blankets for "Footprints," a ministry which serves premature babies in various local hospitals. You can see some examples of our work in our photo gallery.
If you want to join in this group or need more information, contact Mary Evans via e-mail.