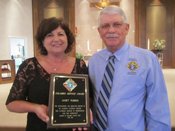 Janet Rubino
Knights of Columbus Council 10567 established the Colombo Service Award in 1995 to recognize a parishioner for longtime dedicated service to church, diocese and community.
It is named in honor of Lou Colombo, one of the Council's founding fathers, a servant, and a lover of music.
The Council is proud to honor another servant and another lover of music – Janet Rubino – with the 2016 Colombo Service Award.
Janet was recognized at Awards Day during the Sunday, June 19 10 a.m. Mass at St. Patrick.
"I am very excited to receive this award," Janet said. "It's surprising but I am truly honored."
Janet grew up in Homewood, the fifth in a family of six sisters. She realized her calling to music early on in her life. "A good friend of our parents had a piano," Janet said. "When we would visit her, all I wanted to do was play that piano." Janet started taking piano lessons in the second grade and she has not stopped playing since.
Janet and her husband Tony joined St. Patrick in 1983 after an unexpected visit from Father Pat Sullivan. "When we moved back here in 1983, Father Pat showed up at our door," Janet said. "He knew about our musical background but he just invited us to come to St. Patrick."
Many years ago, Janet began to serve St. Patrick in a volunteer capacity as cantor and ultimately as keyboardist for St. Patrick parish. Eventually she moved into the volunteer role of Choir Director. As Choir Director Janet began to devote a great deal of time and energy to enhance worship through music in the parish.
But God was calling her to do more and she answered the call. In 2004, along with her daughter (Angela) and husband (Tony), Janet gave birth to our praise and worship group, Absolute Presence. Although this group has evolved over the years, and despite losing her precious husband, Janet continues to strive to keep this group together to serve the parish in a refreshing and innovative way.
Janet herself is a very gifted musician, writing original music settings to the Mass parts (service music) over the years. She also has written her own compositions, such as Worthy Sparrow, Cradle the King, The Messenger, and many more.
After giving so much of her life and talent to liturgical music, and because the parish had a clear need for a new Director of Religious Education, Janet decided to take on those dual roles at the parish.
Janet currently serves as both Director of Religious Education as well as Music Director. In her role as DRE, she oversees all areas of education for our young people. This includes ensuring that teachers and teacher assistants are recruited to work with the children on Wednesday nights and for special programs such as preparation for the sacraments of Reconciliation, First Communion and Confirmation, and for our Children's Liturgy program held on Sunday mornings.
Her commitment and dedication to our children is very evident. Even during the Summer months she is busy putting together her creative ideas and organizing Vacation Bible School for our young people and our adults. Janet enlists volunteers to help construct props that adapt to the selected theme and spends countless hours bringing that theme to life. She also makes sure food and snacks are prepared and served to the kids by volunteers she organizes.
Since taking on the role of DRE, Janet has attended monthly meetings and retreats so as to enhance her ability to serve St. Patrick in this important role.
Janet has worked very closely with our RCIA program, instructing at Tuesday evening classes and often preparing food for these weekly meetings. She is present during the various rites prior to the candidates' entrance to the full congregation, and accompanies Father Vernon's needs throughout the season with handouts, etc.
In her role as Music Director, Janet is constantly pushing the envelope to challenge musicians and choir members, and the people of St. Patrick, to fully explore the power of music in liturgy. She goes over and above her dedication to the parish by serving as keyboardist and cantor, often leading music from the piano when no cantor is available.
Janet also serves as musician for funerals both for parishioners and non-parishioners standing by Father Vernon as he serves God's people.
In addition to these roles, Janet also serves as back-up Sacristan, often providing these services for daily Mass. Since the passing of Catherine Barrett, Janet also took on the role of preparing the monthly ministry schedule, which is a very time-consuming, arduous, and thankless task.
Janet takes special care of the plants on the altar and in the church by ensuring that they are watered, pruned, etc. This is a special service that very few people fully realize or appreciate. Janet is present each year at the Lenten Day of Service and often directs work in the Raymond J. Murrin Family Life Center, the sacristy and the choir room.
Janet served faithfully on the Birmingham Catholic Diocese Board of the Liturgical Foundation for Music Education. This was a diocesan-wide initiative designed to bring musicians from across the country to Birmingham for educational and musician-based workshops.
Being the devoted musician and believing in this effort, she spent a great deal of time in committee meetings as well as onsite preparing materials and agendas for the many workshops conducted for musicians, vocalists, liturgists and choir directors. Her work even included transporting the facilitators who flew in from around the country, ensuring that they arrived at their accommodations and then to the workshop sessions each day.
Add to all of this Janet's role as grandmother to her two wonderful grandchildren, Tanner and Beckett.
The Council 10567 member who nominated Janet for this honor summed it up best. "Janet," he said, "strives to be a disciple of Jesus and every day looks for ways to enhance that walk with Jesus for herself and for all of us."
For her dedication, for her service to our parish and our Catholic community, and for her absolute presence, Council 10567 is proud to honor our own Janet Rubino with the Knights of Columbus Colombo Service Award.
Previous Colombo Service Award honorees are Catherine Barrett, Benny Bakane, Ronnie Muro, Alice Slatsky, Jane Kiintsler, Phil Slovensky, Larry and Monica Crocker, Donnie Schober, Anthony Brooklere, Louis J. Muro, Phillip Troha, Charles Blanchard, Roger Click, Gregory Skocik, Tom Marks, Doris Moody, and Larry Cannon.
Click here for more information on the Colombo Service Award.
Click here to view more information and photos from Awards Day.