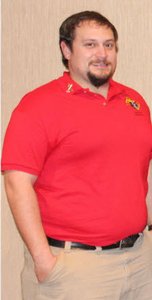 Mike Wehby, Jr.
Mike Wehby, Jr. has been elected to lead Knights of Columbus Council 10567 as Grand Knight for the fraternal year 2016 - 2017.

Mike is a 4th Degree Knight who has served the Council in various capacities, including his most recent role as Deputy Grand Knight.
Other officers elected are: James Nelson, Deputy Grand Knight; Donnie Byrd, Chancellor; McCahill Smith, Warden; Mike Cochrane, Inside Guard; Larry Washington, Outside Guard; Joe Schober, Recorder; Ronnie Muro, Treasurer; and Anthony Brooklere, Advocate.
The Trustees will consist of William Boone, Gerald Kiker and Larry Cannon. Dale Blanchard will serve as Financial Secretary and Father Vernon Huguley is the Council Chaplain. The new officers will begin their duties on July 1.