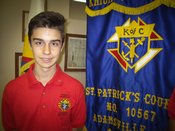 Ryan Shiflett
Knights of Columbus Council 10567 is proud to announce that Ryan Shiflett is the 2016 recipient of the Louis N. Muro Memorial Scholarship.
Council 10567 Grand Knight William Boone said, "Congratulations to Ryan Shiflett, our recipient of this year's Louis N. Muro Memorial Scholarship. Ryan was an outstanding student at John Carroll Catholic High School with a grade point average of 4.0. Ryan has been very active with a number of activities with St. Patrick Church and other activities outside of the church for several years. Council 10567 prays Ryan will have a bright and successful future on his journey in the next phase of his life. Once again, congratulations to Ryan. "
Ryan is the son of Matthew and Marjorie Shiflett and is a lifelong member of St. Patrick. At John Carroll Ryan was a member of the National Honor Society and received the National Spanish Examination Gold Award, the AP Scholar Award, and John Carroll First Honors. Ryan was also a member of Mu Alpha Theta for excellence in Math and the Spanish Honor Society. He enjoys soccer and is a member of the Homewood Soccer Club. He scored 32 on his ACT and plans to attend Birmingham-Southern College in the Fall. Ryan wants to major in International Studies or Political Science.
Ryan participated in the Boy Scouts and at St. Patrick was an active participant in the SPIRIT Youth Group and Columbian Squires Circle 4481. Ryan has served St. Patrick as an altar server, lector, and as an active volunteer at numerous parish functions over the years. He received the prestigious Alpha Award, given to a high school senior annually at the parish level to recognize leadership, perserverance, hard work, and accomplishment.
Ryan became a Knight of Columbus in June 2015.
"College is important to me so that I can enhance my education and hopefully help make a difference in the world and better serve those around me," Ryan said.
Scholarship applicants are selected based on high academic achievement, outstanding service to Church, participation in church youth activities and service to Community. The scholarship is named in honor of Louis N. Muro, the Charter Grand Knight of Council 10567.
Congratulations Ryan. We are proud of you.
Click here to learn more about the Louis N. Muro Memorial Scholarship.
Click here to view more information and photos from Awards Day.
The Knights of Columbus is the world's largest Catholic lay organization. We are celebrated for standing in solidarity with our priests and bishops and for our unwavering support for life. We provide members and their families with volunteer opportunities in service to the Catholic Church, their communities, families, and young people. With more than 1.9 million members in more than 15,100 Councils around the world, the Knights of Columbus annually donates more than $170 million and 70 million hours of service to charitable causes.
For more information on becoming a Knight, send an e-mail to knights@saintpatrickcc.com.