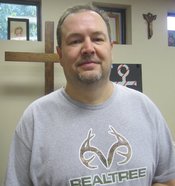 Shane Davis
Congratulations and welcome to Shane Davis, the newest member of Knights of Columbus Council 10567.
Shane went through the First Degree ceremony last night in the Knights room at St. Patrick and more than 20 Brother Knights were on hand to witness the occasion.
Shane and his wife Daphne live in Quinton and have been married for 17 years. They have two children and one grandchild. Shane has worked at Edwards Chevrolet for seven years and enjoys fishing, football, and baseball.
Dignitaries at the First Degree were State Deputy Pete Parrish, Chaplain Father Vernon Huguley, and District Deputy Larry Cannon.
A special thanks to the Council 10567 First Degree Team for performing the ceremony: Larry Cannon (Grand Knight); Gaeton Conte (Deputy Grand Knight); Dale Blanchard (Financial Secretary); Don Cannon (Chancellor); Dwight Ingram (Warden); and Joseph Conte (Inside Guard).
Welcome Shane. We pray that your journey to Knighthood is filled with many blessings.