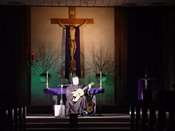 John Michael Talbot
Internationally known singer/songwriter John Michael Talbot provided a wonderful concert to a packed house on Monday, February 11, 2008. The concert began with some of his newer compositions from his new album, "Living Water." This is John Michael's 50th album release. Reverting back to some more familiar melodies, he engaged the congregation in joining in his music. The mood was very peaceful and the lighting and sound system made for a beautiful environment for peaceful worship.
At the heart of Contemporary Christian music since its beginning, John Michael Talbot has proclaimed the message of Christ to many millions worldwide, and still maintains an active ministry through concert tours, recordings, books, and videos. He founded, and remains the Spiritual Father and Minister General of the Brothers and Sisters of Charity at Little Portion Hermitage, an integrated monastic community in the Ozark Mountains of Arkansas. We feel very fortunate to have had him and his wife, Viola, as guests in our church.
If you were unable to attend, you can share in some of the scenes through pictures. If you did attend, you know what a wonderfully rich experience it was.
For more information about this artist and his ministry, please visit http://www.johnmichaeltalbot.com/