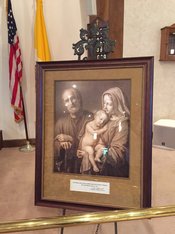 Holy Family Image on Display at St. Patrick
Knights of Columbus Council 10567 received the traveling Holy Family icon late last week and it was on display during the weekend Masses at St. Patrick and St. Stanislaus Saturday and Sunday, October 24 and 25, 2015.
State Deputy Pete Parrish received one of 78 images from the Supreme Council at the recent convention and it is being circulated to Councils throughout the state.
This is an annual program sponsored by the Knights of Columbus. Each year an image is chosen to be circulated to Councils throughtout the world. It is signed by the Pope and is accompanied by a prayer or prayer service in which all Knights are asked to pray.
The image of the Holy Family is based on a painting by Giovanni Battista Salvi da Sassoferrato (August 25, 1609 – August 8, 1685), an Italian Baroque painter. The orginial print is housed at the Pontifical John Paul II Institute for Stuides on Marriage and Family in Rome.
During the weekend Masses, Father Vernon Huguley explained the purpose of the Holy Family image and asked everyone to pray the following prayer, which was written by Archbishop William E. Lori, the Supreme Chaplain of the Knights of Columbus.
A Family Prayer

Heavenly Father, thank you for the gift of our
family. Enlighten our hearts and minds that
we may live more fully this vocation to love.

Let your love be evident in the peace that reigns
in our home and in the faith we profess and live.
May our family always be a place of generosity,
understanding, forgiveness and joy.
Kindly give us the wisdom and courage
to be witnesses to your eternal design for
the family; and grant that the Holy Family
of Nazareth may always guide our path
to holiness as a family.
We ask this through our Lord Jesus Christ,
your Son, who lives and reigns with you in the
unity of the Holy Spirit, one God forever and ever.
Amen