Knights of Columbus Council 10567 handed out its yearly awards after Mass on Sunday, June 21 at St. Patrick.
Receiving awards were: Curry Cooper, Knight of the Year; James and Desi Nelson, Family of the Year; and Larry Cannon, Colombo Service Award. In adddition, the Knights recognized McCahill Smith as the newest student to receive the Louis N. Muro Memorial Scholarship.
The awards were presented by Grand Knight Gerald Kiker with the help of Deputy Grand Knight William Boone.
We reached a milestone this year when we selected McCahill Smith to receive the Louis N. Muro Memorial Scholarship. He is the 40th student to receive this scholarship since we started it in 1995. We are proud of that number.

McCahill is a 4th Degree Knight of Columbus, the son of Past Grand Knight Rob Smith and his wife Bobbie. A lifelong member of St. Patrick, McCahill recently graduated from John Carroll Catholic High School and plans to attend Jefferson State Community College this fall. McCahill has met all the requirements to become an Eagle scout and was a leader in the SPIRIT Youth Group and Columbian Squires Circle 4481. McCahill has served St. Patrick as an altar server and as an active volunteer at numerous parish functions over the years. McCahill became a Knight of Columbus in January 2015 and just three weeks later had earned his 2nd, 3rd, and 4th Degrees.

This scholarship recognizes academic achievement and service to church and community and it is fitting that we recognize a great young man like McCahill Smith as the 40th recipient of the Louis N. Muro Memorial Scholarship.

How special it is, in this day and time, to see a very young Catholic couple practicing their faith and serving their church. James and Desi Nelson are such a family. They began coming to St. Patrick with Tina Webb in 2011 and, according to Desi, they fell in love with it. "Father Vernon took us under his wing," Desi said, and she became a Catholic in 2012. James and Desi began serving their church immediately as Faith Formation teachers in 2013 – 2014 and Adult SPIRIT Leaders this past year. They have been involved in Springfest, Lenten Day of Service and they help with the Children's Liturgy of the Word program. James, a cradle Catholic, joined the Knights of Columbus on April 15, 2012 and is now a 4th Degree Knight. Desi will serve as Historian this year for the Ladies Auxiliary.

They have one child, Win, who will be three in September. They are expecting a second child on January 28, 2016. God bless them.

We are proud to honor James, Desi and Win Nelson as this year's Knights of Columbus Family of the Year.

"If they need help, all they have to do is holler and I'm doing it."

That's the motto of Curry Cooper, our Knight of the Year. And he lives that motto.

Curry and his wife Fran have been married for 45 years and have been fixtures at St. Patrick for more than 30 years.

They have one son Randall and another son Brian, who sadly passed away when he was just 9-years-old. Curry and Fran have four grandchildren.

A native of Sumiton, Curry worked for ACIPCO for 10 years and retired in 2013 after 29 years of service with Alabama Power Company. He is a U.S. Army veteran who served in Vietnam. He is a member of the Combat Veterans Association, a group of veterans whose mission it is to help other veterans.

Curry is a servant in the truest sense of the word in that he does his work behind the scenes and with humility. He is a fixer and when something needs fixing Curry does it. He is a helper and when one of his Brother Knights needs help, Curry takes care of it.

He is an usher, a lector and an altar server. Curry spends countless hours making sure the Lenten Fish Fry is a success. He helps Father Vernon when he needs help and Curry hosts visiting Priests and offers to take them out to dinner when they visit.

Curry became a Knight of Columbus in July 2006 and made his 4th Degree in February 2007. He is a mainstay at 4th Degree Honor Guards and ceremonies.

Being intelligent men, we understand that GOD sometimes channels motivation and inspiration through one person to another. Therefore, we acknowledge that Fran joins Curry in this award.

It is with great pride that we honor Curry Cooper, a true friend and a true servant, as our Knight of the Year.

In Don Cannon's neighborhood, if a boy's bicycle needed repairs, his Dad Larry Cannon would fix it. In Don Cannon's neighborhood, if a child didn't own a bicycle, Don's Dad Larry Cannon found a way to get them one.

Larry Cannon is a special person, a rare person, and today we want him to receive our highest honor, the Colombo Service Award. This award is named in honor of one of our founders, Lou Colombo, and recognizes a St. Patrick parishioner for service to church, the diocese and the community. And Larry Cannon serves all three.

He worked all shifts during his day but even the night shift didn't stop Larry from serving his community. A baseball coach in Midfield for 26 years, Larry would get off work in the dark of night and, instead of going home, he would go to the ball park to drag the field and line it off for the next day's games. Then he would go home.

Larry and his wife Ellen have been married for more than 50 years. They built a home of faith and love and they were always involved in the activities of their children Don, Melissa and Tommy.

We don't have enough time to talk about all the many activities Larry Cannon is involved in here at St. Patrick. Lenten Day of Service, Springfest, RCIA, so much more. He has served the Knights of Columbus as Grand Knight, Family Director, Board of Trustees member, chairman of the Jerome C. Bradley Memorial Dinner Dance, just to name a few. He has served the Knights on the State level as Family director and on July 1 will be the District Deputy for Knights of Columbus Councils at St. Stephen the Martyr, St. Paul, St. Francis Xavier, St. Patrick and Our Lady of Sorrows churches.

Larry once drove a bus for his Baptist church and would bet his fellow bus drivers that he could get more people on his bus than they could. That sounds like him. But God led Larry Cannon to the Catholic Church and when he did so, he poured his grace on us all.

Being intelligent men, we understand that GOD sometimes channels motivation and inspiration through one person to another. Therefore, we ask Ellen to join Larry in this award.

For his example, for his love, for his friendship, and for his service to our parish and our Catholic community, we are proud to honor our good friend and Past Grand Knight Larry Cannon with the Knights of Columbus Colombo Service Award.

The Knights would like to thank our Chaplain and Pastor, Father Vernon Huguley, for allowing us to present these awards in front of the St. Patrick congregation.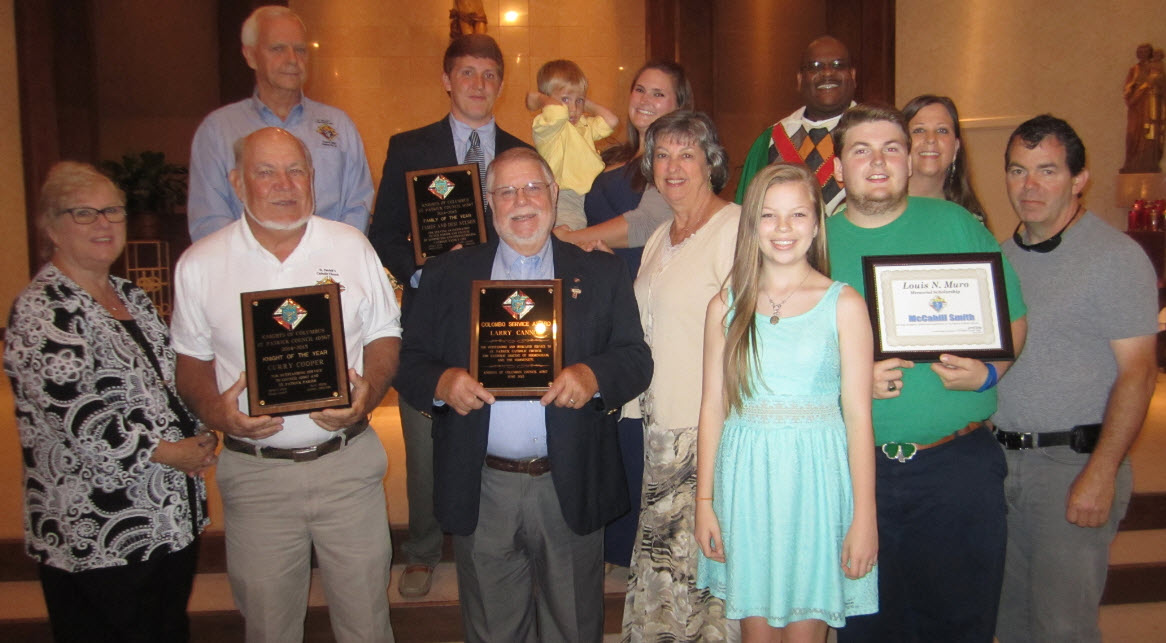 Shown (front row l-r) Fran Cooper, Curry Cooper, Larry Cannon, Ellen Cannon, Jeannie Smith, McCahill Smith, Bobbie Smith, Rob Smith; and (back row l-r) Gerald Kiker, James Nelson, Win Nelson, Desi Nelson, and Father Vernon Huguley.