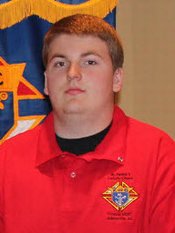 McCahill Smith
Knights of Columbus Council 10567 is proud to announce that McCahill Smith is the 2015 recipient of the Louis N. Muro Memorial Scholarship.
With the awarding of the scholarship to McCahill, a milestone has been reached. Since the scholarship was instituted in 1995, Council 10567 has now awarded the scholarship to 40 deserving recipients.
McCahill is the son of Rob and Bobbie Smith and is a lifelong member of St. Patrick. McCahill recently graduated from John Carroll Catholic High School and plans to attend Jefferson State Community College this fall. McCahill has met all the requirements to become an Eagle scout and was a leader in the SPIRIT Youth Group and Columbian Squires Circle 4481. McCahill has served St. Patrick as an altar server and as an active volunteer at numerous parish functions over the years.
McCahill became a Knight of Columbus in January 2015 and just three weeks later earned his 4th Degree.
Scholarship applicants are selected based on high academic achievement, outstanding service to Church, participation in church youth activities and service to Community. The scholarship is named in honor of Louis N. Muro, the Charter Grand Knight of Council 10567. Congratulations to McCahill. We are proud of you.
Click here to learn more about the Louis N. Muro Memorial Scholarship.