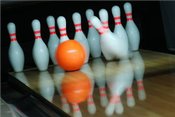 Bowl for a Good Cause on February 9
Jonathan Douglas, better known as "JD" to his friends, was a 1997 graduate of Minor High School and a lifelong member of Crumley Chapel United Methodist Church.
JD was an integral part of the Minor High basketball and baseball teams all 3 years at Minor. In addition to being a great athlete JD was an exceptional student and an all around great guy.
After finishing his first year at Auburn JD was diagnosed with Leukemia in the fall of 1999. JD battled the cancer for over a year before passing away in late 2000.
A scholarship has been established in Jonathan's name at Minor High School. The award is given to a deserving senior every year. The very first recipient of the Jonathan Douglas Scholarship was St. Patrick's own Kathryn Muro, daughter of Louis J. and Brenda Muro.
This year JD's friends and family are putting together the inaugural Jonathan Douglas Scholarship Bowling Tournament. The tournament will be held on Saturday, February 9, 2008 at 1 p.m. at the Pine Bowl in Fultondale. All proceeds will go to fund the scholarship.
For more information go to www.bowlingforjd.blogspot.com or e-mail Shawn Allen at shawnallen1111@gmail.com.