Nine couples, combining for almost 400 years of marriage, renewed their wedding vows on Sunday, September 21 during Mass at St. Patrick.
The annual Renewal of Wedding Vows ceremony is sponsored annually by Knights of Columbus Council 10567. This program began in 2005 and this year marked the 10th time this event has been held.
Fourth Degree Assembly 2399 provided an Honor Guard during the Mass and a reception was held with volunteers from the Knights of Columbus Ladies Auxiliary providing the service. St. Patrick Pastor Father Vernon Huguley officiated the Mass and the ceremony and he also baked the wedding cakes for the reception, including individual cakes for those renewing their vows.
Council 10567 Family Director Larry Cannon organized the event and he and Grand Knight Gerald Kiker would like to thank Father Vernon Huguley and the Ladies Auxiliary for all their help. Thanks also to Janet Rubino and the choir for providing the music and to Doris Moody for taking photographs.
Congratulations and God Bless to all these great couples. They are a role model for all Catholic families to follow.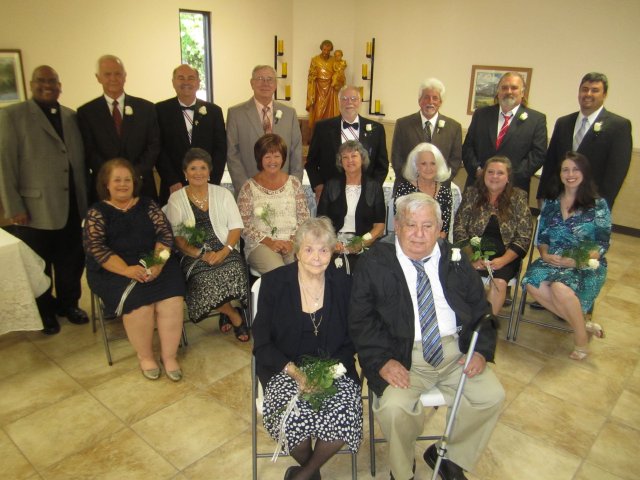 Couples renewing their wedding vows were (front row) Frank and Sandy Alfano (55 years); and (back rows l-r) Father Vernon Huguley; Gerald and Mary Kiker (45 years); Danny and Carolyn Bradley (45 years); Howard and Janice Busby (45 years); Larry and Ellen Cannon (50 years); Dwight and Debbie Ingram (45 years); Joe and Donna Richardson (26 years); and Chris and Rachel Muro (5 years). Not shown are Don and Pebble Davidson (30 years).