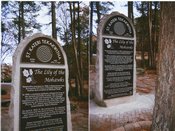 Two images of inscription on back of statue (click for larger photo)
In May of 1994, the Ninety-First Kateri Circle was recognized as an official Kateri Circle.
The Blessed Kateri Tekawitha Shrine was proposed to the Circle members in 1999 by Sr. Adelangela Paita and presented to Bishop David Foley. The artist selected for the shrine statute was Guy Arello. The statue was installed in 2005 on the campus of St. Patrick at the suggestion of then pastor, Fr. Gray Bean, and blessed by Bishop Foley on November 13, 2005. Fr. Paysee of the Office for Black and Native American Missions blessed the Medicine Wheel in May of 2008, and Fr. Vernon Huguley blessed the Bronze Eagle in July of 2008.
Although Sr. Adelangela Paita moved to Arizona in July of 2014, work continues at the Shrine of Kateri Tekawitha, who has now been canonized Saint Kateri Tekawitha. Recently a wheelchair accessible pathway, which begins at the grotto and leads all the way to the shrine, was completed. This includes a large patio area with areas designed to provide seating along the walls. The quality workmanship was done by T/U Uptain Landscaping Services, Inc. of Forestdale.
We now have a restful and peaceful area in the woods of St. Patrick Church to pray and meditate with the first Native American saint who is the patron saint of all native people and of the environment.
The final phase of the shrine is the installation of an inscription on the back of the statue. This has been done and is depicted in the photo within this news article.
Click here to view additional photos of the newly renovated shrine area.