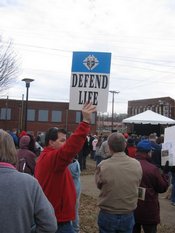 Knights Choose Life
The 2014 Birmingham March for Life will be held Saturday, January 18 at 10:45 a.m. at Brother Bryan Park in Birmingham. Prior to the March and Rally, a Mass will be celebrated by Bishop Robert Baker at 9 a.m. at the Cathedral of St. Paul.
Brother Bryan Park is located at 22nd Street South at 10th Avenue. Sponsored by the United for Life Committee, the annual rally has become a popular Pro Life event in Birmingham and everyone is welcome. It will be legal and peaceful.
For more information, go to http://www.birminghammarchforlife.com/.
"The United for Life Foundation believes in the sacredness and dignity of every human being from the moment of conception to natural death. We are pledged to non-violence in thought, word and deed and committed to exhibiting the sacrificial love of God in Christ Jesus, the Lord. Therefore, we renounce and condemn the use of violence to overcome the violence of abortion, and we respect the dignity of every human being, pre-born and born, friend and foe."