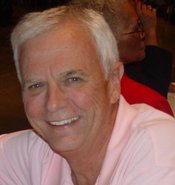 Gerald Kiker
Gerald Kiker has been elected Grand Knight of St. Patrick Knights of Columbus Council 10567 for fraternal year 2014 - 2015.

Gerald becomes the 20th Grand Knight of the Council that was founded on March 17, 1991. He succeeds Greg Brasher as Grand Knight.

Gerald, a Fourth Degree Knight, became a Knight of Columbus on March 29, 2007. He and his wife Mary live in Gardendale. Gerald will officially take over as Grand Knight on July 1, 2014.
"Please understand that serving as Grand Knight is what I want as a Knight and I am honored and appreciative of the Knights for electing me to this office," Gerald said. "I look forward to the upcoming fraternal year and I feel that, with everyone's continued support of the Council, we will all participate in and enjoy a great year."
"Many thanks to Greg Brasher and all who worked with and supported Greg during 2013-2014. I'm sure that, with the continued Council support of everyone, we will continue to accomplish and enjoy good things. To a great year, and many more to come,"
Other officers elected were:
William Boone, Deputy Grand Knight
Mike Wehby, Jr., Chancellor
Joe Schober, Recorder
Anthony Brooklere, Advocate
Jon Karch, Warden
Ronnie Muro, Treasurer
Joe Dush, Inside Guard
Dwight Ingram, Outside Guard
The Council Board of Trustees is also in place for the new fraternal year. Greg Brasher was elected Three-Year Trustee and will serve with returning members Larry Cannon (Two-Year Trustee) and Clay Reece (One-Year Trustee). Dale Blanchard will continue as the Council's Financial Secretary and Father Vernon Huguley will serve as Chaplain. Louis J. Muro has been appointed Lecturer by the new Grand Knight.
Shown below is a list of all previous Grand Knights of Council 10567.
Grand Knight

Fraternal Year

Louis N. Muro

Charter Grand Knight

John T. Majerik

1991 - 1992

Leo Russo

1992 - 1993
1993 - 1994

Lee Gunnin

1994 - 1995

Bryant Collins

1995 - 1996

Phil Slovensky

1996 - 1997

Tom Marks

1997 - 1998
1998 - 1999

Mike Muro

1999 - 2000

Dale Blanchard

2000 - 2001

Jerome C. Bradley

2001 - 2002

Tom Richardson

2002 - 2003
2003 - 2004

Louis J. Muro

2004 - 2005
2005 - 2006

Rob Smith

2006 - 2007

Chris Muro

2007 - 2008

Ronnie Muro

2008 - 2009

Mike Muro

2009 – 2010

Clay Reece

2010 – 2011

Larry Cannon

2011 – 2012
2012 – 2013

Greg Brasher

2013 – 2014

Gerald Kiker

2014 - 2015