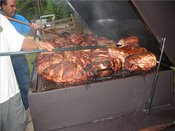 Great Way to Celebrate Memorial Day
Want some good barbecue and chicken to help you celebrate Memorial Day?
St. Patrick Knights of Columbus Council 10567 is selling Boston Butts, Barbecue by the Pound, and Whole Chickens to celebrate Memorial Day. Anyone interested in purchasing one or more can do so now.
Fully-cooked Boston Butts can be purchased for $25 each and Whole Chickens can be purchased for $9. You can also buy barbecue by the pound for just $10.
To place your order, see any Knight of Columbus or send an e-mail to knights@saintpatrickcc.com. There is also a sheet in the narthex where you can place your order.
All proceeds will go to the Louis N. Muro Memorial Scholarship. For more information, contact Past Grand Knight Mike Muro or any Knight of Columbus.