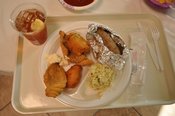 What a great meal!
Our first "Lenten Fish Fry" was held on Friday, March 21 in the St. Joseph Hall. Well over 100 people purchased tickets and either dined in or took out a tasty meal consisting of fresh catfish (picked up on the day of from a catfish farm near Demopolis), home made hush puppies, coleslaw and baked potato. The meal was topped off with homemade brownies and cookies and iced tea. Happy faces served the meal and volunteers prepared and cooked it as well. All proceeds benefit the parish.
Many who attended observed the Stations of the Cross at 6:00 p.m. during or after their dinner.
Come and join us as we observe our Lenten fast as a parish family. Tickets are $8 per plate. Remember, meal consists of:
Fried catfish
Hush puppies
Coleslaw
Baked potato
Dessert
Drink
Presold tickets only. Our next Fish Fry will be on Good Friday afternoon/evening (April 18). Tickets ($8) may be purchased after the week-end Masses.
Thanks to the hard work and dedication of so many who made this event possible.