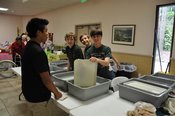 Everyone can help!
As you know, Springfest is scheduled for Sunday, May 18. As the committee looks ahead and prepares for a great celebration, we need your help. How can you help? There are many ways for you to contribute to the success of this effort:
1. Volunteer today! Complete the online volunteer form or e-mail the committee co-chairs from the Springfest section of the website.
2. Calling All Gardeners - We will be including a plant sale on Springfest Day. If you have plants to share for this sale, please contact Barbara Glover (from the Springfest Committee page). Check out our Plant Sale page here.
3. Bake a Cake - As always Springfest will include a cake booth. Cake boxes will be distributed soon so take one or two or more and bake a cake for this fundraising effort.
4. Raffle Tickets - Sell, sell, SELL! This is the major portion of the funds to be raised so the more we sell, the more successful Springfest will be. You can have free chances to win the raffle prize by selling your tickets.
5. Pray for a successful Springfest!