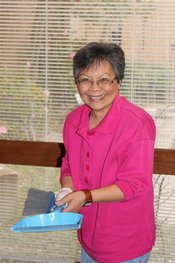 Serving the Lord with gladness and joy!
LENTEN DAY OF SERVICE (LDOS) is a day set aside each year during LENT for our Parish family to come together to serve the Lord, through Service and Fellowship.
SERVICE is an act of volunteering your time and your talent, making a commitment to help keep St. Patrick a growing and vibrant "Jewel of the Diocese". Each LDOS has teams (8 to 10) of parishioners who have signed up to work in particular areas on the Church campus. Each team has a Team Leader (and Co-Leader). After a light morning refreshment and an opening prayer, teams disperse to their assigned area and begin their ministry of service. Throughout the Church and the Family Life Center, general tasks include dusting, mopping, vacuuming, washing, and polishing. Skilled parishoners will make electrical, mechanical, and plumbing repairs. Also a Grounds team: cleaning the grounds, the grotto, the shrine, the chapel garden, et al. There will others preparing food items for parishioners.
FELLOWSHIP with your fellow parishioners. Refreshments begin at 7:30 am. Lunch at Noon. Each time, plus working with others, will allow you to converse with someone you do know or meet that someone who sits on the other side of the sanctuary.
QUESTIONS?
SIGN-UP in the St. Joseph Hall on specially marked Team Sheets. Choose an area you think you will be comfortable with.
REST PERIODS As you deem necessary. WATER will be available.
WHAT DO I BRING? You may need to wear appropriate clothing for the area you choose. Also bring some cleaning supplies (Cleaners, vacuums, rags). Some may be provided. OUTSIDE: Definitely wear appropriate clothing, shoes, gloves. Bring some gardening tools. We have a limited amount of tools.
FINISH We will work until 3:00 pm and attend 4:00 pm Mass. God Bless and Be Safe.
This year's LDOS Chairperson is once again Larry Cannon.