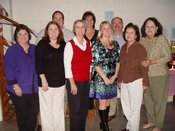 Bradley Family

Elvis Presley never picked up his ticket at Will Call but that didn't keep the patrons at the 6th Annual Jerome C. Bradley Dinner Dance from having a great night of fun and fellowship.
With a theme of "Dining and Dancing with Elvis", the Dinner Dance was a great success thanks to the hard work and generosity of many, many people. The night started with a great buffet dinner, putting everyone in the right frame of mind to have a great time and hopefully to win some money.
After the pledge of allegiance and national anthem, master of ceremonies Ronnie Muro greeted the crowd and informed them about the upcoming night's activities. The Autism Society of Alabama was the adopted charity for the night and representatives Jennifer Muller and Pam Black were there to graciously accept the donation.
The drawing produced high drama and $11,100 in cash door prizes distributed to 17 different winners.
Winners were Rosemary Collins and Connie Tamburello, $500; Joey and Cecilia Richerzhagen, $200; Mike and Judy Champ, $200; Alice Oates, $200; Rodney and Susan Glass, $500; Pat Anderson, $200; Warrior Body Shop, $200; Gina Fadlevich, $200; David Yeager, $500; Matt Majerik, $200; Janice Whatley, $200; Don Rome, $200; Tommy Glover, $500; Brandon Yow, $600; Delores Weeks, $700; Wayne Wellborn, $1,000; and Tim Lomoro, $5000.
After the drawing, there was plenty of time for dancing and it was once again proved that the Dinner Dance displays some great dancers.
St. Patrick Knights of Columbus Council 10567 would like to thank everyone who attended our event and we want you to know that we appreciate it very much.
Click here to view a video that captures all the smiling faces and fun from the Dinner Dance.