St. Patrick Knights of Columbus Council 10567 announced recipients of its yearly awards during a ceremony at Mass on Sunday, June 30.
Dale Blanchard was named Knight of the Year while Anthony and Sara Jean Brooklere were honored as Family of the Year. Longtime Knight Tom Marks received the prestigious Colombo Service Award whole Danielle Berger and Bryant (Trey) Collins III were honored as recipients of the Louis N. Muro Memorial Scholarship.
The awards were presented by Grand Knight Larry Cannon and Deputy Grand Knight Greg Brasher.
The Louis N. Muro Memorial Scholarship is named in honor of Louis N. Muro, our Charter Grand Knight. Council 10567 has now awarded scholarships to 37 young men and women since the scholarship was instituted in 1995.
Danielle Berger is a graduate of Minor High School, Danielle was an active member of our SPIRIT Youth Group. She was a member of the Choir and the Ladies Auxiliary and volunteered to help tornado victims in the wake of that 2011 tragedy.
Trey Collins is a third generation Knight of Columbus, the son of Bryant and Deidre Collins, and the grandson of Past State Deputy Bryant Collins and his wife Vita. Trey graduated from Sumiton Christian where he played football. He plans to continue playing football at Huntingdon College in Montgomery this fall. An active member of SPIRIT, Trey also has served as altar server, usher, lector and extraordinary minister.
In 1995, Council 10567 established the annual Colombo Service Award, honoring a St. Patrick parishioner for outstanding service to parish, the diocese and the community over an extended period of years. We named this award in honor of Lou Colombo, one of the founding fathers of our Council.
Tom Marks has been a Council leader since its inception. Council 10567 experienced tremendous growth in the early years and membership recruiting by Tom Marks was a primary reason. A Past Grand Knight, Faithful Navigator and Color Corp Commander, Tom and his wonderful wife Joan have been married for 47 years. They have four children and 10 grandchildren.
Tom is a well-recognized leader in the Knights of Columbus community. But more than anything, Tom has been a lifelong ambassador. He has been an ambassador for his Catholic faith and has shared that faith throughout the Catholic diocese of Birmingham. It seems that everyone you meet knows Tom Marks and you can bet that everyone that knows him knows that he is a proud Catholic.
Family of the Year honorees Anthony and Sara Jean Brooklere are longtime servants of St. Patrick and the Catholic Diocese of Birmingham.
Anthony is a member and past president of the Jefferson County and Alabama Pharmacy Associations; a charter member, a member for more than 40 years and Past President of the Forestdale Lions Club. He has received the Lion of the Year Award and the Lions Club Community Service Award. He was a charter member of the Forestdale Chamber of Commerce and is also a past recipient of the Knights of Columbus Colombo Service Award.
As a Catholic family, Anthony and Sara Jean are role models to us all. Married 55 years after meeting in high school at John Carroll, Anthony and Sara Jean have two great children, Johnny and Anna, and two grandchildren. Anthony has been actively involved in our church's leadership over the years, as leader of the parish council and finance committee, and he and Sara Jean have been involved in every church activity.
For the example they have set as a Catholic Family, and for their service to St. Patrick and to all of us, we are proud to honor the Anthony and Sara Jean Brooklere family as this year's Knights of Columbus Family of the Year.
Council 10567 is very proud to honor Dale Blanchard our Knight of the Year.
A 4th Degree Knight who has served as Grand Knight, 4th Degree Faithful Navigator, and Color Corp Commander, Dale is a charter member of our Council and has been a leader through all of the years, most recently serving as Financial Secretary. He and his wife Jane have been married 29 years and they have four children, ranging in age from 27 to 13. In addition to all his service over the years to the Knights of Columbus and St. Patrick, Dale recently took on the task of become the director of our SPIRIT Youth Group Director.
Dale retired in 2007 from the Coast Guard reserve after serving for 15 years. He is also a veteran of the United States Army and the Army Reserve.
Council 10567 would like to thank Father Vernon Huguley for being a great Chaplain and spiritual leader during the past year. We also thank Margaret Pender and the Ladies Auxiliary for all the great work that they do.
For photos from the Awards Day, click on View more pictures above.
The Knights of Columbus is the world's largest Catholic lay organization. We are celebrated for standing in solidarity with our priests and bishops and for our unwavering support for life. We provide members and their families with volunteer opportunities in service to the Catholic Church, their communities, families, and young people. With more than 1.8 million members in more than 14,000 Councils around the world, the Knights of Columbus annually donates more than $150 million and 70 million hours of service to charitable causes.
For more information on becoming a Knight, send an e-mail to knights@saintpatrickcc.com.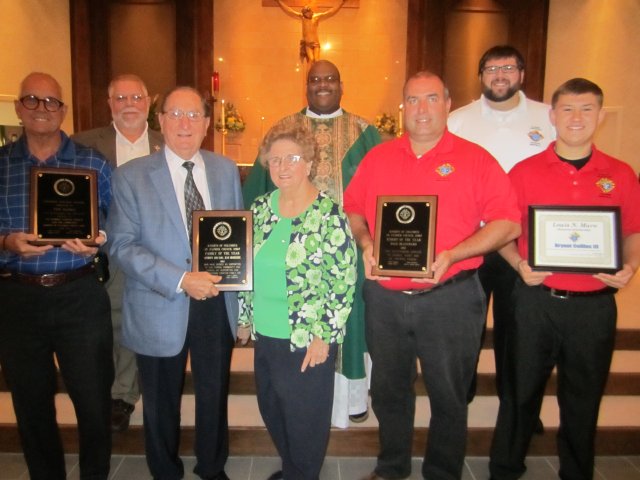 Shown (l-r) are Colombo Service Award honoree Tom Marks, Grand Knight Larry Cannon, Family of the Year Anthony and Sara Jean Brooklere, Father Vernon Huguley, Knight of the Year Dale Blanchard, Deputy Grand Knight Greg Brasher and Louis N. Muro Memorial Scholarship recipient, Bryant Collins III.