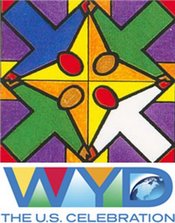 Follow Jesus With Courage
Celebrating and Affirming the Young People of our Parish and the World
SPIRIT Youth will lead a parish-wide celebration on Sunday, October 24, as parishes across the United States observe World Youth Day 2010 and its theme, Follow Jesus With Courage. Our celebration at St. Patrick will include our Youth Mass at 10 a.m., followed by a reception to which everyone is invited in the St. Joseph Hall. 2010 marks the 25th anniversary of World Youth Day.
Additionally, all young people Age 0 to Grade 12 are encouraged to participate in the procession at the beginning of Mass. A blessing of young people will occur during Mass.
In an effort to allow our young people to celebrate World Youth Day individually, SPIRIT invites all youth of the parish to draw a picture or write a poem or story that describes what this year's theme, Follow Jesus With Courage, means to them. For those interested, there are no special requirements for entries, other than simply expressing what the theme means to you. Your parents, friends, or anyone else can help you, and you can submit something as a group.
At the reception after Mass October 24, the drawings will be displayed, and those who submitted stories or poems will be invited to read aloud their entry to the group. All entires submitted by October 20 will be preserved in a keepsake handout.