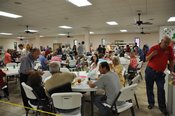 Great Fun at Springfest!
Our 29th year of Springfest celebrations was a wonderful and successful day! Fr. Vernon Huguley, our pastor, reached in and drew the grand prize winner first and then some of our youngest parishioners (and "wee" guests) continued to draw out tickets for the $100 prizes. Winners are listed below.
Jackie McCain - $2,000
$100 Winners
Phillip & Lynn Ashley
Marian Tidwell
Jean Vines
Mike Pitts
Melanie Majerick
D. Potts
Keisha Johnson
Pat & Mary Evans
Vickie Fadlevich
Patricia Brasfield
The winner of the raffle tree was Mrs. Rogato (Patty Wehby's mom).
The top 3 raffle ticket sellers are:
1st place - Jim and Barbara Glover
2nd place - William Boone
3rd Place - Joseph Conte
Congratulations to all who won and a special note of thanks to all who supported our raffle by purchasing tickets this year. A special thanks to Faith Harper for her awesome help with our live auction. Also our gratitude to our Springfest Committee for all their hard work and planning.
For all the photo coverage, click here.
See our final list of 10-Plus ticket sales champtions by visiting our 10-Plus Page.