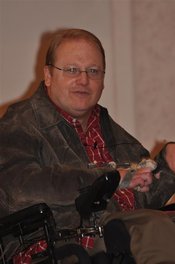 (Click for larger image)
Absolute Presence provided the message in music on this night as Scott Coleman, author of Best When Broken, addressed a church full of parishioners and visitors during his April 24th visit to St. Patrick's. Fr. Vernon opened with a prayer and welcomed Scott and his wife/family to our church. A brief video was played after which Johnny Brooklere, president of the St. Vincent de Paul Society, told the story of how they met so many years ago and how their friendship had grown over those years. Johnny introduced Scott and thereafter he gave witness to his story of struggle and triumph. You may see photos from the evening by clicking here.
Scott became a quadriplegic after a water skiing accident at the age of 17 before his senior year of high school in June, 1980.
After months of rehabilitation, Scott returned to school and graduated the following spring. Four years later he graduated from the University of Memphis with a degree in finance and economics, and began a career helping families and small business owners diversify their investment portfolios. Scott currently lives in Olive Branch, Mississippi and has been married to his wife for 25 years.
He has worked in the investment consulting business for more than 25 years. When not working Linda and Scott enjoy spending time with family and friends at church, traveling and staying in the woods as much as possible. Scott speaks at various venues to a variety of audiences. His speaking topics include: Perseverance, Encouragement, Living in a Noisy World. All who attended were inspired by this thoughtful and engaging speaker.
Those in attendance also enjoyed a reception with refreshments and an opportunity to purchase Scott's book, have him sign it and have their picture made with him. We appreciate the Coleman's generosity in taking the time to visit with us and share their story.
Learn more about Scott at his website - www.bestwhenbroken.com.