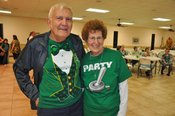 Best Dressed Couple!
March 17th can't go by without taking time to celebrate our patron's feast day with some food, fellowship and fun! And this year was no exception.
The evening began with prayer, our musical blessing, and then dinner. Parishioners brought casseroles, meat, salads, vegetables and desserts for all to feast on together. After dinner, we were entertained by the Irish Dancers from Westwood Ballet. The dancers attempted to teach the attendees some of the steps. They were all wonderful and really put us in the spirit of the occasion. Tom Marks led a sing-along and Donnie Schober (acting as our faithful "World's Tallest Leprechaun") sat down to the keys and played an Irish tune himself.
The evening ended with a lively game of Family Feud led by Margaret Pender. Our Leprechaun passed around the pot of gold to those who gave correct answers and team scores were kept throughout the game. In the end, the Scallinis emerged victorious over the O'Malley's.
Thanks to all who attended and brought such wonderful food to share. A special thanks to the Ladies Auxiliary for all their hard work in organizing and executing this annual event.
Check out the video of photos below. (Make certain to click the "full screen" view in the lower right-hand corner to get the best effect. And turn up your speakers!) If you prefer to look at the photos individually, click here to view the photo album area of Family Life.