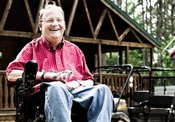 Scott Coleman
Scott Coleman, speaker and author, will be speaking at St. Patrick's on Wednesday night, April 24, from 6 until 8 pm. For a preview of Scott's background, click/view the video below.
Scott became a quadriplegic after a water skiing accident at the age of 17 before his senior year of high school in June, 1980.
After months of rehabilitation, Scott returned to school and graduated the following spring. Four years later he graduated from the University of Memphis with a degree in finance and economics, and began a career helping families and small business owners diversify their investment portfolios. Scott currently lives in Olive Branch, Mississippi and has been married to his wife for 25 years.
He has worked in the investment consulting business for more than 25 years. When not working Linda and Scott enjoy spending time with family and friends at church, traveling and staying in the woods as much as possible. Scott speaks at various venues to a variety of audiences. His speaking topics include: Perseverance, Encouragement, Living in a Noisy World. If you're ready to be inspired by a thoughtful and engaging speaker, please come and hear Scott speak on April 24th. This event is being hosted by the Society of St. Vincent de Paul. Invite your friends. Coffee and refreshments will be available afterwards. Scott's books will be available for purchase. Scott's website is www.bestwhenbroken.com.