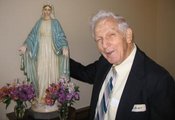 Benny Bakane

St. Patrick parishioners Greg and Anita Skocik have been honored as the first recipients of the "Jesus Loves You" award given by St. Patrick Knights of Columbus Council 10567 in memory of the late Benny C. Bakane.
The award was presented during a special Mass at St. Patrick on Wednesday, July 25, which would have been Benny Bakane's 82nd birthday. Benny died earlier this year after a lifetime of service to St. Patrick church, Council 10567 and the entire Catholic community in the Birmingham area.
Greg and Anita Skocik have been married for 42 years and have been servants at St. Patrick for many years. They are actively involved in many church activities but are known primarily for their many years of tireless work in helping the homeless and those in need. They have served as the social conscience for all St. Patrick parishioners.
Council 10567 designed the "Jesus Loves You" award to recognize individuals who, by the example of their spiritual works of mercy and corporal works of mercy, imitate the life of humility and self-sacrifice lived by Brother Knight Benny Bakane.
The award was the idea of Council 10567 officer Phil Neely. "I am constantly humbled when I see how my brother Knights give of themselves to support their Council, their parish and the Catholic Church," Phil said. "It encourages me to not just sit on the sidelines but to do as much as I can to help others."
"One of our brother Knights in particular has been a great source of encouragement to me and, I'm sure, to many others. That Knight has passed on but, just the mention of his name brings out stories of his great faith in his God and his unselfishness toward others. That Knight is Benny Bakane. Benny was a true Knight of Columbus, offering many spiritual and corporal works daily for the good of his fellow man and his Church."
"I feel that it is only fitting that Council 10567 honor Benny by establishing an award in his memory, an award to be called the "Jesus Loves You" award, for those are the words of hope that Benny had for everyone he met."
To qualify for consideration for this award a person must:

1. Be a practicing Catholic.
2. Contribute to the spiritual life of their parish by actively participating in the liturgy and sacraments of the Church and by their spiritual works of mercy:
• To instruct the ignorant
• To counsel the doubtful
• To convert the sinner
• To bear wrongs patiently
• To forgive offenses willingly
• To comfort the afflicted
• To pray for the living and the dead
3. Exemplify the Catholic faith by daily living a pro-life Gospel in their corporal works of mercy:
• To feed the hungry
• To give drink to the thirsty
• To clothe the naked
• To shelter the homeless
• To visit the sick
• To visit those in prison
• To bury the dead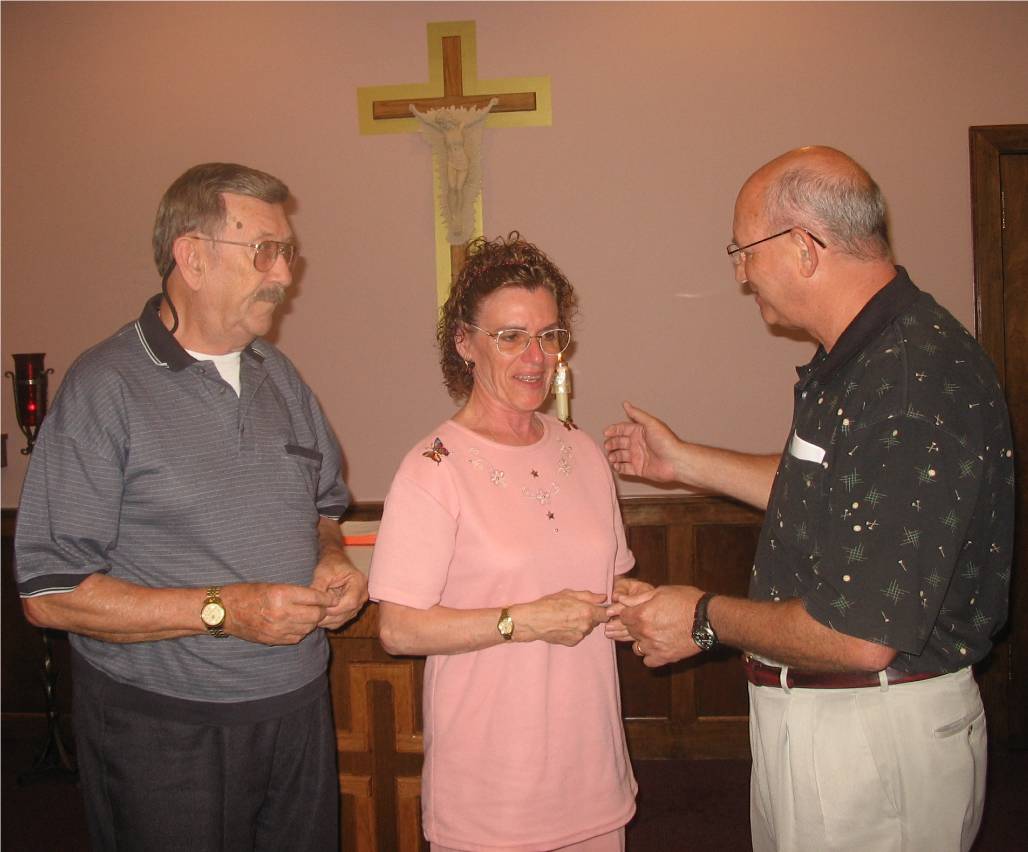 Council 10567 member Phil Neely (right) presents the first ever "Jesus Loves You" award to Greg and Anita Skocik.
The Knights of Columbus is the world's largest lay Catholic organization with more than 1.7 million members worldwide. The organization was founded in New Haven, Conn., 125 years ago by Father Michael J. McGivney, whose cause for canonization for sainthood is under way at the Vatican. Annually, Knights report raising more than $140 million dollars for charity and volunteering more than 64 million hours of service.
Membership in the Knights of Columbus is open to all men age 18 or older who are practicing Catholics. For more information on joining the Knights, send an e-mail to knights@saintpatrickcc.com.