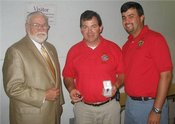 Rob Smith (center) receives a Past Grand Knight pin from new Grand Knight Chris Muro (right) as District Deputy Jack Boggan looks on
View more pictures

St. Patrick Knights of Columbus Council 10567 officially installed its officers for the 2007 - 2008 fraternal year during a ceremony on Sunday, July 1.
The ceremony, which was conducted by District Deputy Jack Boggan, was held in the Knights of Columbus room in the Rev. Raymond J. Murrin Family Life Center at St. Patrick.
More than 60 Knights and family members attended the Installation and the lunch that followed. Lunch included barbecue, cole slaw, baked beans, tea and four different kinds of cake. Attending the Installation and lunch were Father Gray Bean, St. Patrick Pastor and Council 10567 Chaplain; and Sister Maura Sampson, St. Patrick Director of Religious Education.
During the lunch, new Grand Knight Chris Muro presented the Past Grand Knight pin to outgoing Grand Knight Rob Smith.
Pictured are the 2007-2008 Council 10567 officers. Seated (l-r) are Greg Brasher, Warden; Phil Neely, Recorder; Dale Blanchard, Financial Secretary; Father Gray Bean, Chaplain; District Deputy Jack Boggan; Chris Muro, Grand Knight; Shawn Allen, Deputy Grand Knight; and Ronnie Muro, Chancellor. Back row (l-r) are Andrew Brasfield, Advocate; Mike Champ, Inside Guard, Floyd Alfano, Outside Guard; Rob Smith, Third Year Trustee and Immediate Past Grand Knight; Louis J. Muro, Second Year Trustee; Gaeton Conte, First Year Trustee; and Phil Whatley, Treasurer.
Click the more pictures link above to view more photos from this event.
The Knights of Columbus is the world's largest lay Catholic organization with more than 1.7 million members worldwide. The organization was founded in New Haven, Conn., 125 years ago by Father Michael J. McGivney, whose cause for canonization for sainthood is under way at the Vatican. Annually, Knights report raising more than $140 million dollars for charity and volunteering more than 64 million hours of service.
Membership in the Knights of Columbus is open to all men age 18 or older who are practicing Catholics. For more information on joining the Knights, send an e-mail to knights@saintpatrickcc.com.