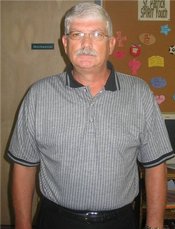 William Boone

St. Patrick Knights of Columbus Council 10567 celebrated the first day of the new fraternal year on Sunday, July , 2007 by welcoming four new members to its ever-growing ranks.
Brandon Yow, William Boone, Don Jones and Ryan Scott went through the First Degree Exemplifcation in the Knights of Columbus room in the Rev. Raymond J. Murrin Family Life Center.
The ceremony was performed by the Council 10567 First Degree team and District Deputy Jack Boggan was in attendance.
The First Degree was done in honor of Gregory J. Skocik, a member of Council 10567 since 1993 and a longtime member of the Council 10567 First Degree team.
Brandon Yow works at CTS, Inc. and is very involved in music ministry. He also enjoys drawing and running.
| | | |
| --- | --- | --- |
| | | |
| Don Jones | Ryan Scott | Brandon Yow |
Don Jones and his wife Cathy live in Dora where Don works as the Dora High School Band Director. He enjoys music, sports and golf.
William Boone became a Catholic at Easter of this year. He is a 35-year employee of U.S. Steel and he and his wife Donna live in Adamsville. William has three daughters and four grandchildren. He enjoys cars, motorcycles and woodworking.
Ryan Scott is an emergency medical technician who works for Rural Metro Ambulance. A Pleasant Grove resident, Ryan lists hunting, fishing and "most outdoor hobbies" as his interests.
Pictured are the new Knights and First Degree team members. Seated (l-r) are First Degree Knight Brandon Yow; First Degree Knight Don Jones; Jack Boggan; First Degree Knight William Boone; and First Degree Knight Ryan Scott. Back row (l-r) are First Degree team members Gaeton Conte, Rob Smith, Chris Muro, Dale Blanchard, Phil Slovensky, Charles Blanchard and Joseph Conte.
The Knights of Columbus is the world's largest lay Catholic organization with more than 1.7 million members worldwide. The organization was founded in New Haven, Conn., 125 years ago by Father Michael J. McGivney, whose cause for canonization for sainthood is under way at the Vatican. Annually, Knights report raising more than $140 million dollars for charity and volunteering more than 64 million hours of service.
Membership in the Knights of Columbus is open to all men age 18 or older who are practicing Catholics. For more information on joining the Knights, send an e-mail to knights@saintpatrickcc.com.