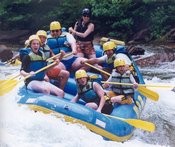 SPIRIT`s Ocoee 2002 Trip
Going on the trip and need day-of-trip information? Download the Related Document "Ocoee 2010 Follow Up."
It's been three years since SPIRIT's last whitewater rafting trip, so we're overdue for a fun and WET trip back down the Ocoee River in Tennessee!
If you're 12-years-old on Saturday, August 14, 2010, then you're eligible to attend the trip -- and if you turn 12 in 2010 by that date, your trip is free!
Download the flyer in Related Documents for full details about the trip, and also download the Ocoee Outdoors Release Agreement and complete it. If your parents have not completed a SPIRIT Permission Form, they must do so for you to attend the Ocoee trip (both the SPIRIT form AND the Ocoee form are required for this trip for all who are under age 18). Please note the SPIRIT Permission Form has two sides; both must be completed.
The cost of the trip is $42, which includes the trip and a picnic lunch. You'll need additional money for dinner and souvenirs or other spending. Click here to learn how to earn credit toward your $42 fee by working at the SPIRIT Car Wash July 24.
We have a limited number of spaces for the Ocoee trip, so if you want to attend, sign up quickly. A non-refundable $10 deposit to hold your spot is due by the extended deadline of Sunday, July 25; the balance, and all paperwork, are then due Sunday, August 1. Registration is now closed.