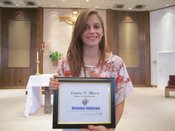 Delaine Johnson
Named in honor of Charter Grand Knight Louis N. Muro, Delaine Johnson is the 35th recipient of the Louis N. Muro Memorial Scholarship since it was instituted in 1995.
Delaine Johnson is the daughter of Jeff and Pattie Johnson and a recent graduate of John Carroll High School. She was a member of the choir for two years and, during her freshman year, Delaine worked at the Nazareth House, the diocese's program that offers religious education, pastoral care, and liturgical celebrations to children and adults with intellectual and developmental disabilities. To meet her John Carroll service requirements, Delaine worked for 50 hours at the Foundry Rescue Mission and Recovery Center in Bessemer.
Delaine has been an active member of the SPIRIT Youth Group, attending major events such as the SPIRIT mission trip and twice attending the National Catholic Youth Conference. Delaine has also been a lector and altar server and plans to attend the University of Montevallo this fall.
Congratulations to Delaine Johnson for her great accomplishments.