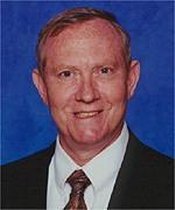 Jack L. Mauldin, M.D.

March is Colorectal Cancer Awareness Month and St. Patrick will host Dr.Jack Mauldin, a gastroenterologist from Princeton Hospital, on Thursday, March 22 from 7 p.m. until 8 p.m. in the St. Joseph Hall.
Dr. Mauldin will speak about colorectal cancer awareness and screening, as well as other health topics that affect both men and women.
There will be an open Question and Answer session at the end of the talk to address any questions people may have about any health issue.
Dr. Mauldin said, "I believe that the patient-physician relationship is the most important aspect in providing good medical care. Time to talk and review health problems is often more important than new technologies. I believe that science is an important adjunct to diagnosis and care, but it does not take the place of a listening ear, a helping hand and a kind heart."
Dr. Mauldin is a 1968 graduate from the University of Florida and a 1972 graduate from the University of Florida College of Medicine. He has residencies at Baptist Health System (Fellowship) and at University of Alabama Hospital. Dr. Mauldin has certifications in Gastroenterology and Internal Medicine.
Knights of Columbus Council 10567 is sponsoring this parish-wide event and refreshments will be provided. Please make every effort to attend this very important talk.
If you have any questions, please contact Chris Muro at 791-1228.